Saint Croix Observatory (SCO)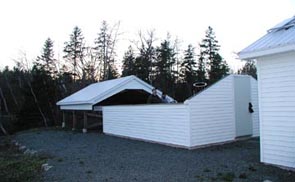 Members of the Halifax Centre have access to and use of their own observatory, built with volunteer labour and donated funds, with a little fundraising on the side. The site itself, near the community of St. Croix, is leased from Minas Power. The site consists of a roll-off-roof observatory that has room for members to set up several telescopes, a warm room for breaks,and a toilet and store room facility.
SCO equipment is not available for loan.
Main Telescope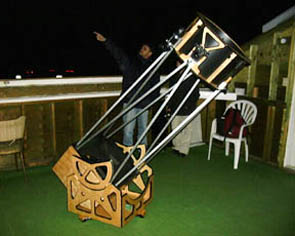 Visiting SCO is a great opportunity to try different telescopes, including the Centre's 17.5" (44.5 cm) Dobsonian Newtonian reflector, which is dedicated to shared viewing those nights.
SCO Gallery
View our gallery of photgraphs of the SCO and the 17.5" telescope.
Observe with us
Enjoy dark clear nights away from city lights and the company of like-minded amateur astronomers who appreciate the wonders of the night sky. Most clear Moon-free nights, you will find our keen observers out there!
Observing Nights
Every month, on a weekend close to the New Moon, we host a Observing Night. For more information, contact us.
Become a SCO Key Holder
For a modest fee, members who have been in good standing for more than a year and who have been briefed on the operation of the observatory can gain access to the facility by having their very own key. Contact us for details.
Here are the Guidelines for SCO use. (pdf)
History and Construction Details
Read about the history of SCO.