Observing Aids
Clear Sky Chart: Will it be clear for observing tonight?
Mini Messier Observing List "Deep Sky" for beginners (pdf)
Micro Messier Observing List for absolute beginners (pdf)
The National RASC Observing Page, including Messier List, Finest NGC objects, and much more.
Recipients of Messier Certificates
1986 William Thurlow, M.D. (deceased), David Chapman*
1987 Mary Lou Whitehorne*, Glen K Roberts, Douglas C. Pitcairn, Patrick Kelly*, Larry Bogan*
1989 Joe Yurchesyn*
1990 David Lane*
1993 Blair MacDonald*, Reginald D Henderson (deceased)
1994 John Reppa (deceased), Paul Gray* (New Brunswick Centre)
1997 Stephen Carrigan
2002 Keith Lowe, Michael Gatto*
2003 Paul Heath*
2009 Jeff Donaldson, Quinn Smith
2014 Melody Hamilton
2016 Tony Schellinck
*also awarded Messier Observing Pins in 2008
Saint Croix Observatory
The RASC Halifax Centre has its own observatory in a dark-sky location near Saint Croix, just off Highway 101 between Halifax and Windsor. The Saint Croix Observatory was built by the members themselves, supported by donations and a generous land-lease arrangement with Minas Energy. Members can be found observing there most clear, dark nights, and every month we congregate there for an Observing Night. For more information, contact the Observing Chair.
Here are the Guidelines for SCO use. (pdf)
Here is the information and manual for the Thurlow Binoculars. (pdf)
Here are the guidelines and list of equipment for loan. (pdf)
Nova East Star Party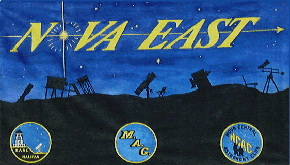 For over 25 years, the RASC Halifax Centre and other local clubs have hosted the Nova East star party, a weekend of camping, observing, talks, workshops, and just plain socializing. The event is usually held on a dark weekend in August, and for several years has been located at Smiley's Provincial Park, near Windsor, Nova Scotia.