Observatories
Saint Mary's University's Burke-Gaffney Observatory is the world's first fully-automatic Twitter-controlled observatory.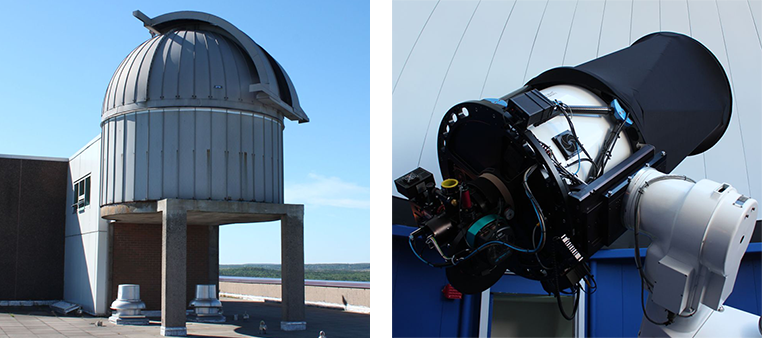 The Deep Sky Eye Observatory, located in North America's first Starlight Tourist Destination, is operated by Tim Doucette in Quinan, NS. 
The Abbey Ridge Observatory (ARO), built in 2003, is the world's second fully-automatic Twitter-controlled observatory located in Stillwater Lake, NS, Canada and is owned by Dave Lane.
Here are links to other groups and observatories:
Other Resources
The RASC Halifax Youtube Channel provides access to numerous educational video resources and records of some of our activities.
The Facebook group Astrophotography Nova Scotia has numerous contributions from local astronomers and photographers as does the group Queens Country Astronomy Group.
Learn about the four supernovae discovered by Centre member Dave Lane, Paul Gray, (then 10 year old) Kathryn Aurora Gray and Nathan Gray.
Michael Boschat's huge compendium of Astronomy Sites.
The Canada-Wide Astronomy Buy & Sell is Canada's trading post for new and used telescopes & accessories. Site maintained by Paul Markov.
Do you have a screw loose?
You might want to try finding replacements for screws, bolt or bolts and other hardware parts at:
www.mcmaster.com,
/telescopescanada.ca m3-thumb-screw, 
telescopescanada.ca m3-x-8mm-hex-head-screws
www.amazon.ca/dp/B00A9N1I18?ref_=cm_sw_r_apin_dp_ZQCDN374CBNYD40VWF92
Hits: 1022